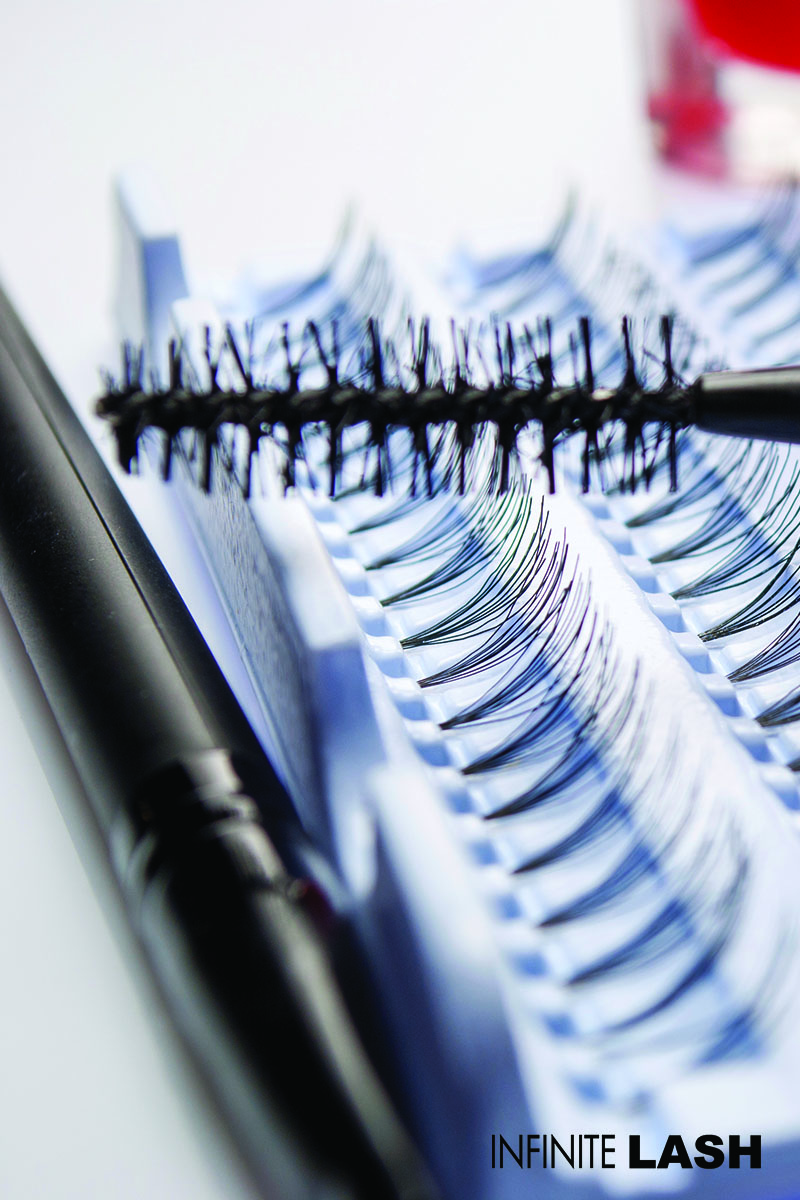 Take a walk down the beauty aisle of any drugstore, and you'll see dozens of eyelash products, all promising length and volume. Mascaras, serums, fake lashes, overnight treatments…the list goes on and on. Researchers from Procter & Gamble say that 40 percent of mascara users are "volume seekers" – the average woman applies six strokes of mascara per eye every day to achieve fuller, more voluminous lashes. It's no surprise then that eyelash extensions, which offer luscious length and volume without heavy makeup application, are popular with everyone from Kim Kardashian to your local yoga teacher.
Eyelash extensions can help you appear polished, even without makeup, and can add drama to your look at night. There are several options to fit any taste or price range, and a variety of looks you can achieve with extensions. Of course, like with any long-term beauty treatment, there are risks involved. Here's everything you need to know before taking the leap to longer lashes.
The History of Eyelash Extensions
Some beauty trends come and go, but it seems a desire for long, commanding lashes has been around for ages — women have been coveting dramatic lashes for thousands of years. Before The House of Rimmel created modern mascara in the 19th century, Cleopatra was making homemade mascara with a blend of waxes and pigments.
Fake eyelashes first made their debut in 1916, when D.W. Griffith was making the film Intolerance, and wanted leading lady Seena Owen to have longer lashes to make her eyes appear bigger. He wanted lashes so long they brushed her cheeks, so a neighborhood wig maker wove human hair with gauze to create false eyelashes, and an industry was born. Throughout the 1940s and 1950s artificial lashes became popular, though they often looked fake and were reserved for movie stars and special occasions. It wasn't until fashion model Twiggy made big, doe-eyed false lashes popular in the 1960s that the trend became part of a woman's regular beauty routine.
Still, eyelash extensions as we know them today didn't come on the scene in the US until 2004. The practice came from Japan and Korea, where women have been lengthening their lashes with extensions for at least 40 years. By 2005, a-list celebrities and many more were batting longer lashes, thanks to eyelash extensions. Some even took it a step further by bedazzling their newly extended lashes. Over the past few years, the trend has become more accessible for those outside the celebrity realm, and more and more women around the country are trying eyelash extensions for themselves.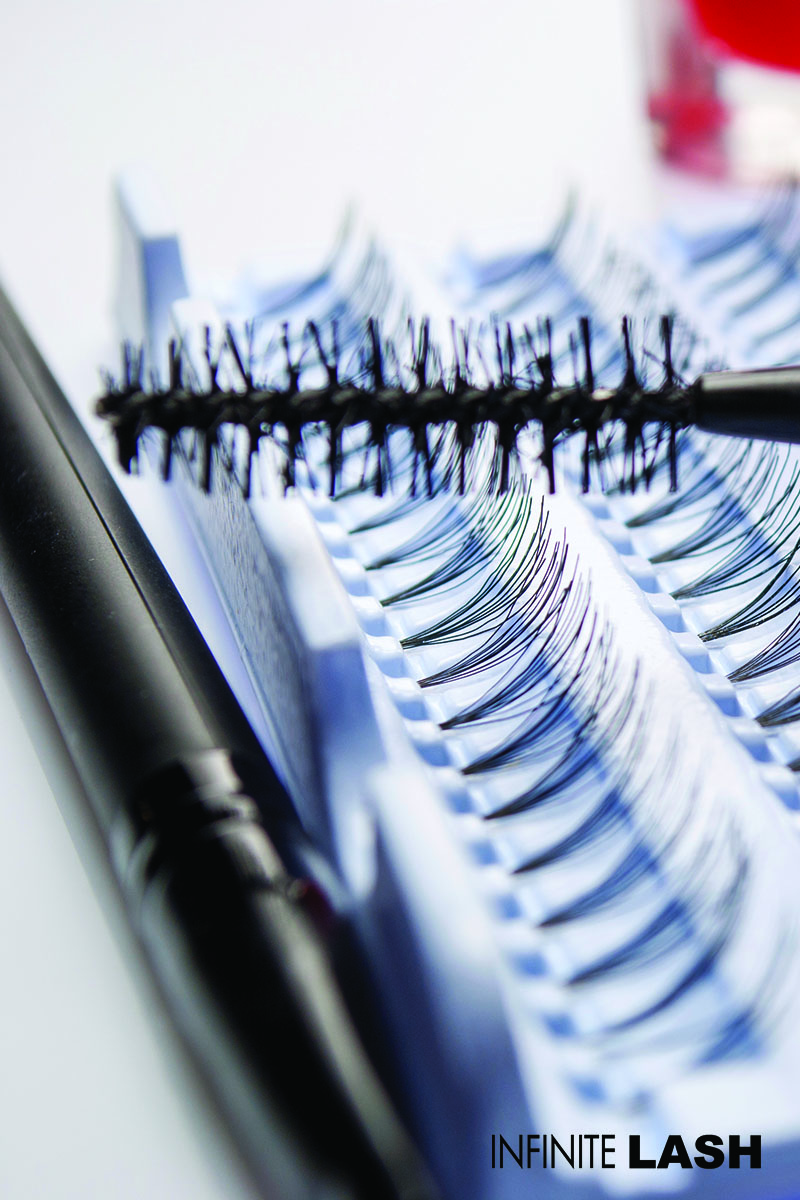 Which Type of Eyelash Extensions Are Right for You?
So what exactly are eyelash extensions? They're individual lashes made from silk, mink or synthetic material. They come in various lengths, based on your desired look, and anywhere from 80-150 are placed on each eye, depending on how thick your natural eyelashes are. Here's the scoop on each of the options:
Synthetic Eyelash Extensions – For really full, thick eyelashes, synthetic lashes are your best option. Made from an acrylic material, they're the thickest and heaviest extension option, and also the shiniest, providing the most dramatic effect. Synthetic eyelash extensions provide a more made-up look than the alternatives, so they're good for special occasions or if you want to forego other makeup. Because of their added weight, they usually don't last as long as their silk or mink counterparts. Synthetic extensions cost from $75 to $150, depending on how thickly you want them applied.
Silk Eyelash Extensions – Silk eyelash extensions are lighter and softer than synthetic, and last longer. Their weight is between that of synthetic and mink, providing a more natural look, while still adding drama. These extensions start at around $100.
Mink Eyelash Extensions – Because they're made from mink fur, mink extensions are the most natural looking extension material. Mink eyelash extensions will give you full, fluffy eyelashes that are much lighter than synthetic or silk extensions.
The natural material allows them to straighten out on their own when they get wet, just like your natural lashes. Some synthetic and silk lash extension users run into problems with this, and end up spending time straightening out their lashes after they shower. Mink extensions also blend more easily with your natural lash line, and they last longer than silk or synthetic. Because of these benefits, they are by far the most expensive option, running upwards of $400.
Faux Mink Eyelash Extensions – There is also faux mink, which mimics the weight and feel of mink but is used by those uncomfortable with having animal fur on their face.  An added benefit of faux mink lashes is that they hold a natural curl, so you don't have to worry about using an eyelash curler. They run about the same price as mink extensions, sometimes slightly cheaper. Some salons charge by the hour, instead of by the product, so it's always a good idea to call ahead for an estimate.
Before deciding on an extension type, think about the style you're going for, consider how each type of extension would look with your natural lashes, and if your preference will fit in your price range. You can also talk through the options with your lash extension artist, as she can help guide you toward the extension type that will blend most easily with your natural lashes and help you achieve the exact look you want.
The Risks of Eyelash Extensions
No matter which extension type you choose, all three options pose potential risks. Some women are allergic to the glue used in the extension process, which can cause inflammation and redness. Usually this is because the eyelash glue contains formaldehyde, so make sure your salon uses an adhesive with other ingredients. Although inflamed, red eyes are no walk in the park, other side effects are even more serious.
In 2013, the American Academy of Ophthalmology said eyelash extensions and their glue could cause infections and swelling of the cornea and eyelid, and cautioned against use. Consumer Reports also warns against extensions, and has said they can cause bacteria and fungal infections, erosion of the inner surface of the eyelid, and even permanent or temporary loss of lashes.
Britain's College of Optometrists also warns eyelash extension users that alopecia, a condition that causes your hair to fall out as a result of extreme tension on the hair shaft, is a risk with eyelash extensions. In some scenarios, women have experienced, swollen eyelids and temporary blindness due to infections as a result of prolonged wearing of extensions. While these side effects are rare, they are also serious and you should be aware of them.
How to Protect Yourself from Potential Risks of Eyelash Extensions 
Although nothing can prevent these risks entirely, you can minimize your chances of infection by choosing a good salon. Choose a spa or salon with an excellent reputation, or even better, an establishment that specializes in eyelash extensions only.
Your lash artist should definitely be a licensed esthetician. Don't be afraid to ask questions, including what type of adhesive is used. Remember, you want one without formaldehyde! You should also inquire about what sterilization practices the establishment and technician follow. During the process, make sure the technician is washing her hands thoroughly. Once your lashes are in place, if you do notice any signs of infection see an ophthalmologist immediately.
It's also important to find an eyelash extension artist you're comfortable with and who will listen to what you want, so you don't waste your money and can ensure you get the look you're going for. You might want thick, full lashes, or a more sparse application to create more awake looking eyes. Talk with your eyelash artist to make sure you're on the same page, and if you have photos bring them along for reference.
What Should You Expect When Getting Eyelash Extensions?
Your first eyelash extension procedure will take about two to three hours, and from then on follow-up appointments will only take about an hour. First, you'll talk with your eyelash extension artist about your desired outcome, and then you'll lie back with your eyes closed for the application process. The technician will cover your lower lashes with an under eye pad, or in some cases tape. Often, she will also tape your eyelid to your eyebrow so the skin is more taut.
The technician will then take each extension lash and dip it in a waterproof adhesive, and attach the extensions to your natural lashes hair by hair. They'll only use a tiny bit of glue for each lash, so you barely feel it. Once all of the lashes are applied, they'll make sure they're evenly distributed and not tangled in each other.
How Long Do Eyelash Extensions Last?
Once applied, the extensions will last throughout the natural growth cycle of your lashes, which is anywhere from two to four weeks. The life of your eyelash extensions can be slightly extended with products and proper care. Most importantly, do not get your lashes wet for 24 hours after application — including exposure to steam rooms or saunas.
You probably won't need mascara once you have extensions, but if you choose to apply it anyway you should used a water-based product, and always use an oil-based makeup remover. Be careful if using a traditional eyelash curler, and never use a mechanical eyelash curler. You should also avoid sleep masks or other eye coverings aside from glasses or sunglasses. Of course, avoid excessively touching or rubbing your lashes (even though it may be tempting).
Alternatives to Eyelash Extensions
If the application process and caring for extensions sounds like too much, there are plenty of other options that will help you achieve long, luscious lashes — without the inherent risks. New mascaras hit the market all the time, some even promising the look of fake lashes or including lash extension fibers, and there are several lash treatments to help nourish and rejuvenate your eyelashes.
Angel Lash eyelash enhance serum, for example, uses a proprietary blend of vitamins, minerals and botanicals to naturally enhance and beautify your lashes. Because of damage from makeup, curling, and cleansing, only about 24 percent of your eyelashes reach their full potential. Infinite Lash could restore lost nutrients and help promote healthy follicles and more flexible lashes.
Over time, the Infinite Lash serum conditions your lashes to help them become supple and bendable, so they're less likely to break in harsh elements or because of makeup. Because the ingredients are natural, there are no scary side effects to worry about. Natural antioxidants also protect against future damage, resulting in fuller, healthier lashes after prolonged use. When you've got voluminous, healthy lashes, who needs extensions?
Another option as an alternative to eyelash extensions is an eyelash lift, which bends the root of your natural lashes so they curl up and appear longer and fuller. It costs about half the price of eyelash extensions, and lasts about two months.
Decision Time: Should You Get Eyelash Extensions?
Now that you know everything you need to about eyelash extensions, you can decide if they're right for you. If you do decide to get extensions, think about which option is best for your look and lifestyle, and do some research on pricing. Talk with your technician about any questions you have and the style you're going for, so you can walk away happy with your new lashes.
Once the application process is complete, take the time to care for your new lashes properly so they can stay looking beautiful and last as long as possible — again, trying a product like angel Lash can help with this.
If you decide against eyelash extensions and instead opt for the more natural route, Infinite Lash can help you achieve the look you've always wanted. In fact, most users notice a noticeable improvement in their lashes in about a month. However, individual results may vary. The product also has a money-back guarantee, so if you're unsatisfied you can get a full refund.